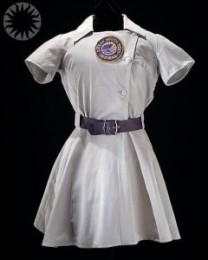 A League of Their Own was a brilliant movie released in 1992, and it has since made its way into Hollywood history. The directors, producers, and actors had such a small canvas, but they managed to produce a masterpiece. Nobody ever knew they could stir up so much emotion for a woman's baseball league.
I was only a kid when I first saw this movie, but I felt its importance even then. Seeing these women deal with the struggles of playing for an under-minded baseball league as they made their way to the big leagues was a tremendous experience. This movie gives you a glimpse into the challenges and barriers women faced especially in sports.
Back then, I wasn't familiar with the big name A list actors and actresses, but I knew they were doing one hell of a job. Looking back,  for me, the stand-out star in the movie was Geena Davis.
Davis was a budding star on the silver screen, but I had no idea of the impact and inspiration of the women behind the movie. I just knew I was watching a memorable performance by a beautiful woman. Her portrayal of star baseball player Dottie Hinson was remarkable and will forever be one of my favorites.  Dottie Hinson's character was inspired by real life female baseball player Dorothy "Dottie" Kamenshek.
Kamenshek played first base for the Rockford (Ill.) Peaches from 1943 to 1951 and again in 1953, and finished among the league's top 10 career batting leaders, with an average of .292. She was named one of the top 100 female athletes of the century by Sports Illustrated, winning batting titles by hitting .316 in 1946 and .306 in 1947. Read Full Article NYTimes
Also, this was my first introduction to the acting talents of Tom Hanks who is now one of my favorite actors as well, and his work in Hollywood has been legendary. The supporting cast was made up of many big celebrity names who in 1992 were at the beginner of their careers. The biggest celebrity name on that list is mega-star Madonna, who played the role of Mae Morabito.
Mae and her chubby fun-loving friend played by Rosie O'Donnell were very memorable characters in the movie. Anne Cusack, Bill Pullman, and Jon Lovitz also played major roles in this classic hit. It's simply a flawless picture from start to finish. If you haven't seen this movie, I strongly suggest you make it the next movie you watch. This is a hit that definitely is a home run. Check out one of my favorite scenes. Enjoy!