How Much Does A Cremation Cost? Depends Who You Call
How much do you think it costs to cremate a dead body? It's a question you probably don't think about until tragedy strikes and you're planning the funeral of a loved one.
One of the last things anyone wants to do when they've lost a loved one is make a complicated financial decision. Families want to spend that time celebrating a life, not hunting for the best rate on the memorial service. If a funeral home quotes you a price for a cremation, you'll probably just assume you're being treated fairly and accept the price.
So it may come as a surprise that the price of basic services like cremation can vary wildly from home to home. Today the average cost of a standalone cremation — no additional services — is $2,057. And yet, in any given city, some funeral homes will charge you two to three times as much for a cremation. Same service, drastically different price.
Even more troubling, in the Internet age funeral parlors tend to make pricing hard to find. In fact, the Federal Trade Commission allows funeral homes to keep their rates hidden until someone actually writes or calls a funeral home representative — leaning on regulations last updated in 1994 — rather than pushing funeral homes to let the customer compare online. In a survey by the nonprofit Funeral Consumers Alliance, only 25 percent of funeral homes fully disclosed prices on their websites, while 16 percent failed to disclose prices after an email and a phone call.
Tough access to comparison shopping seems to affect pricing. At Parting, we've painstakingly built a database of how much funeral homes charge for services so that no one ever gets ripped off in their time of need. Let's walk through the data.
If recent trends continue, cremations will account for over half of all funerals by 2018, up from about a quarter in 1998.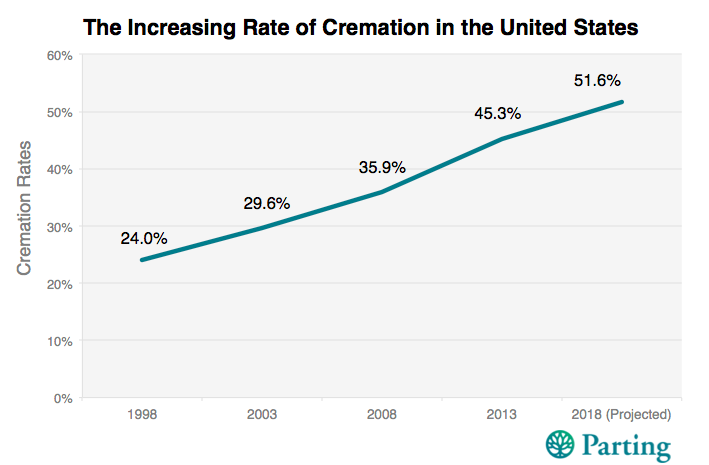 People have been buried in coffins for centuries, so why the rise in cremations?
The Cremation Association took a look at this question. The group found a correlation between high cremation rates in states with a high proportion of people unaffiliated with organized religions, and the number of unaffiliated individuals is on the rise. The group also attributes the growing cremation rate to the simple fact that it's cheaper than the coffin, which alone can cost thousands of dollars. And having the ashes portable in an urn (which typically cost in the hundreds of dollars) allows families more creative memorial ceremonies, like at a riverside or on a mountain top, where they don't pay for a burial plot.
The cremation process itself is relatively straightforward. The body is placed in a large chamber and using mid-thousand-degree heat from oil, gas or propane, the body is incinerated. The process may have minor differences, depending the funeral home, but the end product is the same: ashes, in an urn or container.
Though families get essentially the same product regardless of where the body is cremated, there is surprising variation in cremation costs. Analyzing our data, we found that while there are many locations at which direct cremation, the most basic cremation service, costs less $1,000, there are also a large number of funeral homes which offer the service for more than $4,000. There are even those that charge over $9,000 for the service.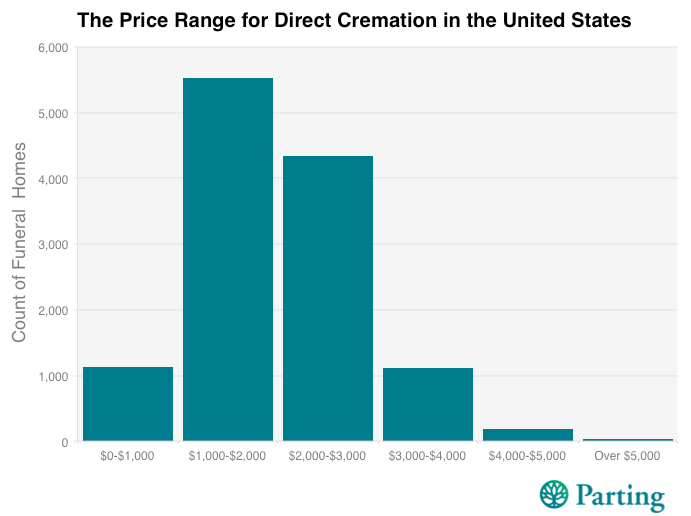 Comparing direct cremation costs is not always apples to apples. For instance, some funeral homes have their own crematorium while others use a third party, which can mean an extra fee. Still, these fees don't explain why direct cremation at some facilities costs five times more than others.
John Jung of California Mortuary in Los Angeles points out that cremations are an administratively intensive process. They have to get approval from a doctor and, depending on the state, the various layers of government.
But when we analyzed cremation costs by city, we also found large variations in price within the same location. The following charts shows the range in prices for the forty largest U.S. cities in order of the largest range in price.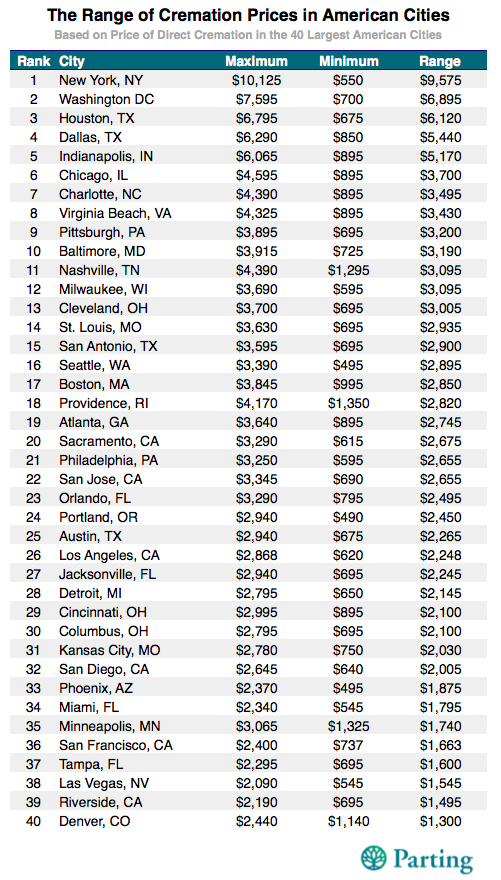 The disparity in some cities is glaring. New York tops the list with the highest parlor charging over 18 times the lowest. In Washington DC, the most expensive direct cremation is nearly $7,000 dollars more than the least expensive.
How could there be such a wide range of prices?
Jung believes that any parlor on the very high end of pricing probably doesn't see the service as essential to their business. They keep cremations on the price list in case someone really wants it and then they turn a hefty profit for the effort. But it's not core to their revenue.
And the lower range cremation prices are likely to attract additional business. They are loss leaders. "If it's under $1000, they're probably losing money. You really don't make much profit on the direct cremation alone," Jung says. "They're just trying to get you into the door."
The average price for a standalone cremation nation-wide is $2,057 but our data shows a full memorial service costs, on average, $3,650. These bundled services add additional products like the cremation casket, which typically go for around a thousand dollars or just removing and transferring the remains (typically a few hundred), not to mention flowers, embalming services and time spent viewing the body.
Getting a family in the door allows a funeral director to sell these additional services. This can create an awkward situation: It's hard to say no to an upsell for someone's last goodbye. Good funeral homes try to keep that balance of selling their own services while respecting the family in a time of need.
"It's really a service industry," Jung says of funeral homes. "You have a job to do but at the same time you have to direct them in a gentle manner."
Not every state is equally shocking in the divergence of cremation prices. California offers some hope that transparency would alleviate such glaring disparities. The state requires that if a funeral parlor has a website, it must post prices.
"California funeral law protects the family a lot," says Jung, whose family has run their parlor in the Los Angeles area for 17 years. "It's pretty strict."

Unfortunately the "death-care" industry, as Bloomberg noted in a 2013 cover story is big business and often ends up preying on grieving families. Publically traded funeral home companies like Service Corporation International (SCI), which run thousands of funeral homes across the country, are worth over $5 billion and — unlike locally-owned homes integrated with a community — answer to Wall Street traders, leading to pressure to upsell consumers.
Cremations are taking the place of casket burials and future generations will expect their prices online for a straightforward albeit serious service. More transparency will go a long way and having cremation costs online puts power into the consumer's hands when they need it most.
No one wants to shop around for the best prices for a cremation when dealing with a tragic death, and unfortunately some funeral homes take advantage of this fact.
How Social Workers Can Practice Trauma-Informed Care
Sponsored Article by Adelphi University
Over the past few decades, there has been increasing recognition of the widespread and profound impact of trauma on individuals and communities. The results of an international mental health survey suggest that traumatic events have affected over 70 percent of the population, and can lead to prolonged physical and psychological harm.
These findings have transformed the field of social work, shifting the focus of education and training onto practices that recognize, support, and empower survivors of trauma. Referred to as "trauma-informed care," this framework is especially important for social work professionals who have a high likelihood of encountering people with a history of trauma in practice settings.
Expanding the Definition of Trauma
Trauma-informed care starts with an understanding of the intricacies of trauma, and how it impacts individuals and communities. According to the Substance Abuse and Mental Health Services Administration (SAMHSA), "trauma results from an event, series of events, or set of circumstances that is experienced by an individual physically or emotionally harmful or life threatening and that has lasting adverse effects on the individual's functioning and mental, physical, social, emotional, or spiritual well-being."
For most people, the concept of trauma conjures up images of soldiers who have survived violent combat. Others may think about people who have been exposed to physical abuse, sexual assault or natural disasters. While these are some of the most distressing experiences that an individual can endure, trauma isn't defined by an extreme event—it's what the event means to the individual.
Trauma-informed social workers must take the time to understand a person's unique perception and response to an event, taking into account the complex layers of identity, power, and oppression that contribute to trauma. Adopting this framework, researchers have expanded the definition of trauma to include the following categories:
Complex trauma: The result of being exposed to repeated, ongoing, or simultaneous traumatic events, such as chronic neglect from a caregiver or long-term exposure to war conflict.
Intergenerational trauma: This type of trauma is passed from those who directly experience trauma onto subsequent generations.
Historical trauma: A type of intergenerational trauma that is experienced by specific racial, ethnic or cultural groups that accumulates across generations. Some experiences most commonly associated with historical trauma include the colonization and forced migration of Native Americans and the enslavement of African Americans.
Institutional trauma: This is a type of trauma that occurs when institutions take actions that worsen the impact of traumatic experiences; for example, when a university covers up a sexual assault violation.
Secondary trauma: Many helping professionals experience this type of indirect trauma, through hearing or witnessing the aftermath of a traumatic event experienced by a survivor. In addition to expanding the definition of trauma, the social work field has begun to outline some essential components of trauma-informed care.
Promoting a Sense of Safety
Trauma-informed social workers recognize that clients may have a history of trauma and prioritize creating an environment that feels physically and psychologically safe. Physical safety can be ensured by keeping areas well lit, monitoring who is entering and exiting the building and providing clear access to exits. Psychological safety involves a client's feelings of trust in their relationship with the social worker, and can be ensured by modeling respect, consistency, acceptance and transparency.
Acknowledging and Reinforcing Patients' Strengths
Many social service and healthcare professionals focus on diagnoses and interventions, framing symptoms as problems or weaknesses. Trauma-informed social workers, on the other hand, recognize that these symptoms are coping strategies in response to trauma. These practitioners highlight resilience and acknowledge strengths, cultivating hope for recovery and change.
Creating Opportunities for Choice
Trauma survivors often feel a sense of powerlessness, resulting from a loss of control and predictability in their experience of trauma. Trauma-informed social workers attempt to return the client's sense of control by offering them choices and actively involving them in goal-setting and decision-making. As clients practice making decisions in the social work setting, they develop coping strategies and self-advocacy skills that support their functioning in the outside world.
Applying Your Knowledge
To maximize your impact as a social work professional, you need an extensive understanding of the latest theoretical perspectives, including trauma-informed care. An online master of social work program can help you acquire the conceptual knowledge and hands-on field instruction that you can apply to improve clients' lives and achieve your professional objectives.
The Adelphi University Online Master of Social Work program brings decades of expertise and a legacy as a leading social work school to a flexible curriculum designed for working professionals. As a graduate student in the program, you'll have the opportunity to engage with faculty members at the forefront of research on trauma-informed practices. Our graduates complete the program prepared to become Licensed Master Social Workers and fill the need for a skilled trauma workforce.
In A New World, Social Work Leads the Way
This is a sponsored article by California State University at Northridge
How Cal State Northridge is doing its part.
The pandemic, if nothing else, exacerbated the unequal distribution of resources in society. For millions of people, access to food, shelter, and health care is now more uncertain than ever.
What's emerging is a new, somewhat dire need for experienced social workers – professionals able to compassionately address a disparate and evolving set of issues. Not only here in Los Angeles, but all over the world.
For much of the pandemic, the field has championed relief efforts, such as the rent moratorium. This provided a necessary, if temporary, reprieve from the daily fear of eviction. Outside of California, however, this moratorium is over. As are federal unemployment benefits.
And the impact is tragically visible. In California alone, the homeless population is over 151,000, with 41,000 of that in Los Angeles. And that's just according to official estimates. The true number, allege some experts, may be much higher.
This is the sad, beautiful truth of social work. No matter where a client is, whether it's in the classroom, at home, or on the streets, the field will be there.
But the field itself is evolving, too.
Following the death of George Floyd, social workers are increasingly involved in policing, augmenting first responders with a new option: one aiming to mitigate crisis and, as importantly, prevent the use of force.
As cities and states consider policing alternatives, social workers can help to ensure each community's voice is heard, especially communities of color. Gaining popularity, the idea is to offer a more compassionate approach to law enforcement. Rather than responding with aggression, an arriving unit could instead respond with care, assessing the situation from a mental health standpoint, not one of criminality.
Likewise, opportunity youth – sometimes referred to as "at-risk" – now face many new challenges (among them, a skills gap from a year of remote learning). On top of food scarcity and uncertain housing, there's also the real risk of contracting COVID. And for these youth, who often lack access to health care, this can be especially dangerous.
In all these cases, a humane approach is needed. Many social work programs incorporate hands-on experience, giving students access to the communities they'll serve. One such program is the Master of Social Work (MSW) at California State University, Northridge (CSUN).
Unlike many social work programs, CSUN's MSW expands participants' career possibilities by offering a generalist approach. This enables graduates to work at ALL levels of the field: individual/family (micro); group/community (mezzo); and societal/policy (macro).
The program is offered fully online in two- and three-year formats. The two-year option is a full-time program with an intensive curriculum designed to help students complete their degrees and enter the field in as little time as possible. The three-year option, on the other hand, is an excellent choice for those who would prefer the same curriculum at a less intensive pace.
The master's degree, which is often ranked among the best in the country, promotes the well-being of urban communities. Through its curriculum, participants learn how to assess a community's needs from the inside, in large part through active listening.
As the field continues to evolve, those who comprise it must evolve too. That begins with knowledge of the new world, but ends, as it always has, with the people who need us most – the ones for whom we care.
What "Bachelor in Paradise" Can Teach us About Empowering the Disability Community
Are you a fan of "Bachelor in Paradise?" Whether you realize it or not, this season of the "Bachelor" franchise spinoff took on the topic of disability empowerment. Which is not exactly an expected topic for mainstream television. For years, the "Bachelor" series has been criticized for featuring primarily White contestants, and has worked to diversify the races and ethnicities of the people they draw on the show. But what about people from the disability community or people who identify as Deaf or hard-of-hearing?
Being disabled or Deaf or hard of hearing are also social identities in American culture – identities that should not be overlooked in the show's representation. These communities represent what some refer to as the largest minority community in the United States at 26 percent of the U.S. population according to the Centers for Disease Control and Prevention. In the following, we'll discuss more about why this year's "Bachelor in Paradise" was so significant and what that may mean for social workers.
Introducing Abigail
A few years ago, we did have Sarah Herron on the show, a woman with a physical disability, although her presence was short-lived. But this season, the very first person down the stairs to the Mexican beachfront hacienda was Abigail Heringer, a 26 year-old woman who identifies as Deaf due to congenital hearing loss from birth. She received cochlear implants at the age of two but does consider herself disabled due to her hearing impairment and loss. Abigail was a central figure in this summer's Bachelor in Paradise due to her romance with Noah Erb.
It was refreshing to see a disabled person in a romantic relationship given the history our culture has of thinking that disabled folks are asexual, incapable of having sex or in need of being protected from any kind of sexual contact. Abigail and Noah's relationship has played out on television screens across Bachelor Nation – from their devastating breakup at the show's conclusion to their rekindled romance announced subtly on social media later. This demonstrates that members of the disability community have relationships too, and that this is 100% normative behavior, with breakups, glitches, awkwardness, kissing and all!
The Dignity of Risk
So how does this relate to social work practice? One of the central tenets of good disability social work is how we need to honor the concept of the dignity of risk. This is the idea that everyone can learn from everyday risks. Central to honoring the dignity of risk is respecting an individual's autonomy and self-determination to make choices. Also important, is the right for our clients to make choices even if social workers or other professionals in the person's life feel that they could endanger the decision-maker in question. In order to respect a person's dignity of risk, one should provide intermittent support even if others do not approve of the choice.
As there is inherent dignity in the experience of everyday risk, this concept suggests that limiting a disabled person's ability to make even a risky choice, or limiting their access to the learning that comes along with a potentially emotionally painful risk, such as dating, does not foster overall wellness in the long run. Abigail, from this year's "Bachelor in Paradise" is a wonderful example of the kind of empowerment needed, rather than sheltering one from risks in life.
Robert Perske famously wrote:
"Overprotection may appear on the surface to be kind, but it can be really evil. An oversupply can smother people emotionally, squeeze the life out of their hopes and expectations, and strip them of their dignity. Overprotection can keep people from becoming all they could become…"
Arguably, the dignity of risk may be among the most challenging tenets for social workers to embrace in their practice, but it is vital to accept given its intersection with self-determination. The dignity of risk also involves learning about the part of life that involves sexual and romantic relationships. Social workers need to remember to talk to their clients about sexuality in a developmentally appropriate manner. It is important not to cut off conversations about this topic, or to skirt the subject when it comes up. We must also support our clients in exploring how to engage in healthy relationships when they have the opportunities to be in them.
It's wonderful that Abigail Heringer can be a model in reminding us of this important lesson for empowerment-oriented disability social work. One that embraces the dignity of risk for those who wish to date! With that being said, here's to Noah and Abigail's relationship!