Tracking Hate Speech on Twitter
by Vilissa Thompson
It finally happened:  someone has taken the time to track the usage of hate speech (which includes slurs and derogatory terms) on Twitter.  In The State, Columbia, South Carolina's newspaper, published an article about the prevalence of hateful tweets on the internet, and how a good percentage of the tweets tracked were from those who lived east of the Mississippi River.  This article intrigued me, especially since I live in a Southeastern state that has a history of ardent viewpoints and mistreatment concerning the groups of people targeted in the hateful messages analyzed in the study.
Here is how the tweets were tracked:  Monica Stephens, an assistant professor of geography at Humboldt State University in Arcata, California and three geography students, used data from the DOLLY Project, which had archives of tweets with the locations indicated.  The tweets used in this research analysis were from June 2012 to April 2013.  Stephens and her students analyzed the tweets from this specific timeframes and constructed a visual map highlighting the geotagged tweets to display where hateful tweets were most prevalent.  (For those of you who are unfamiliar with the term "geotag," it is when you allow the geographic location of where you are tweeting to be posted on your tweets.)
The hate maps allows you to select derogatory term identifiers to see where in the country those words were tweeted the most.  From reviewing the maps, one does notice that a good percentage of the hateful tweets tracked were prominently from one side of the country.  However, we must not stereotype Easterners as being bigots/hateful, nor can we safely concluded that those who occupy other parts of the country do not harbor prejudices about race, sexual orientation, or those with disabilities.
The research findings about how some individuals are choosing to use the internet is disturbing, especially when hateful messages and propaganda are being shared to millions of users through mediums like Twitter.  Hate speech is protected by the First Amendment, but that protection does not condone its usage, whether it is spoken or in written form.  Websites like Twitter can enforce policies that discourage the use of such language (i.e., Facebook allows you to report offensive posts/statuses), however, such policies can only go so far.
This brings me to my point:  what can we do to decrease the kind of hateful speech that seems to breed online?  We are all aware of the harmful, and sadly, deadly, effects of cyberbullying on our children in this country, but how come there is not a strong movement in place to "clean up" the hate language on the web?  Negative words, whether it is about someone's race, sexual orientation, disability, or appearance, do hurt, and can greatly affect a person's self-esteem and self-worth.  What will it take for us to be more serious about the damage that is being done, whether the target is an adolescent or an adult?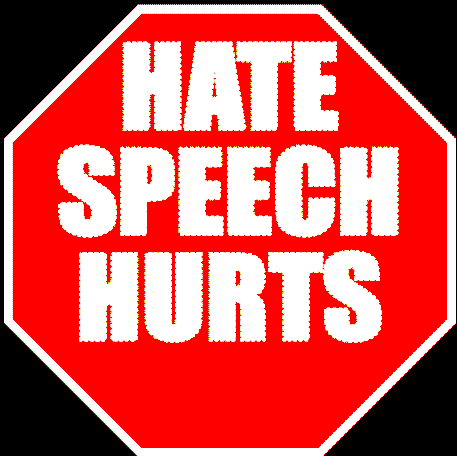 When I come across offensive posts, I do report  it.  Why?  Because I know how destructive such words and language can have on the psyche and well-being of individuals, from a professional standpoint.  Also, I, myself, have been the target of hate speech via the internet in the past, and it  is not an experience I would want anyone to endure.  That kind of language is not empowering or uplifting; it is dehumanizing, hurtful, and isolating.  The "sticks and stones may break my bones, but words will never hurt me" rhyme that we learned in elementary school may tell us that words lack power, but for anyone who have been called a name due to who and what they are, they know differently; words have tremendous power.
Tell me, what are you prepared to do when you observe hate-filled messages on sites like Twitter?  Do you report it, or keep scrolling?  If you choose the latter, then are you indirectly "approving" the message being shared to millions online through your inaction?  
Prejudice is a burden that confuses the past, threatens the future and renders the present inaccessible.
What Do You Know About Disability Cultural Competence?
Recently, I had the opportunity to give a webinar on disability cultural competence to social service workers, but was met with many blank stares. As a disabled social worker myself, I often notice that the disability community is not recognized as a cultural group. Disability is also not considered as a social identity in diversity considerations, despite the ways the community feels about it. Frankly, our field has a long way to go when it comes to developing disability cultural competence. Let's see if we can change that.
Why the We Need to Prioritize the Disability Community
You may be asking yourself, why all the focus on disability? Well, the disability community comprises 26 percent of the adult U.S. population – that's one in four Americans according to the Centers for Disease Control. Among children under the age of 18, estimates suggest that 4.3 percent of the population is disabled according to the U.S. Census from 2019. This means that social services workers are interacting with the disability community all over! It's also important to note that disability transcends race, ethnicity, gender and other social identities, as seen in the graphic below (courtesy of Courtney-Long, Romano, Carroll, et al., 2017). So we need to remember to be intersectional in our  practice – these are not siloed communities.
Importance of Disability Identity
I'd like to transition now to talking about the importance of having a disability identity. Some people identify as disabled from a cultural perspective. Some people are not even aware that this is an option and you can open their eyes to the world of disability as a resource for them. In other words, for some, this is a missed opportunity to connect to a supportive network. For others, it's a choice not to identify as disabled either due to stigma, internalized ableism or other beliefs. The idea is that developing a strong disability identity is super helpful with your long-term well-being. And in order to do this, you have to both connect with the disability community and with disability culture. So what is that?
What is Disability Culture?
In short, disability culture is the "sum total of behaviors, beliefs, ways of living, & material artifacts that are unique to persons affected by disability." It's essential for social service workers to be tuned in to disability culture so they can leverage it to connect with their clients. And let's be clear, disability culture does NOT consist of disability service programs. Where we really see disability culture come alive is on social media sites, such as Twitter and Instagram. You can follow some of the major disability culture hashtags to see the dialogues and debates that are hot in our community right now, such as: #DisabilityTwitter; #DisabilityVisability; #DisabilityAwareness; #IdentityFirst; #DisabilityLife; #Spoonie,#SpoonieLife, and more.
You may notice that the last two hashtags included the word "spoonie." This derives from "spoon theory," which is an actual theory based on a metaphor about how much mental and physical energy a person has to accomplish their activities of daily living (ADLs) and instrumental activities of daily living (IADLs). The disability community talks about how many "spoons" they have as a unit of measurement of energy – and sometimes refers to themselves as spoonies. Please note that in teaching you this, I am helping you to develop your disability cultural competence.
How Build Disability Cultural Competence
Other ways to build up your disability cultural competence are to check out the Disability Visibility Project, which tells the stories of diverse members of the community in wonderful ways. And there are a range of organizations, such as Sins Invalid, which founded the disability justice movement. You can also read the 10 principles of that movement in this short document. This will help you to tune in to the disability pride movement. We have a pride month and a pride flag too, it happens in July.
When it comes to engaging in disability competent practice, we need to develop knowledge about disability culture and disability history. We can also consider taking the following steps to round out this competence:
First, we need to examine our own attitudes about disability and engage in reflective practice around that. You can consider your own implicit bias about the disability community through Harvard University's Project Implicit test about ableism, or through social worker Vilissa Thompson's guide to checking your own ableism.
Second, developing disability cultural competence over time also includes a careful look at the terminology we are using and respecting disabled people's choice of identity-first language in many cases. You can read more about that here and throughout that site. The Harvard Business Review also has a thoughtful essay on why you need to stop using particular words and phrases. It's a great resource and helpful read for many.
Third, we also need to think respectfully about disability etiquette and how ideas play out in different parts of the disability community. One should presume competence about us – all of us! We ask that you respect our bodily autonomy, speak to the person and not their companion/interpreter, ask before you help, be sensitive about physical contact/equipment contact, don't make assumptions about capacity, listen to us, don't assume you know better and if you are in doubt about what to do, ask! Writer Andrew Purlang sums up his disability etiquette request as follows:
Don't be afraid to notice, mention, or ask about a person's disability when it's relevant — but don't go out of your way!
Offer to help, but make sure to listen to their response, respect their answer, & follow their directions
Don't tell a disabled person about how they should think about or talk about their own disability
Don't give unsolicited medical, emotional, or practical advice
Don't make a disabled person responsible for managing your feelings about their disability, or for your education on disability issues
If you make a mistake, just say you're sorry and move on. Don't try to argue that you were right all along.
Now What?
Taken together, these steps, learning disability culture, and examining our own attitudes about disability, go a long way towards the development of disability cultural competence. But none of it will do any good if we are not fighting for disability access and disability inclusion, which are central issues for the disability community. Many people think that issues of access were solved by the passage of the Americans with Disabilities Act of 1990. But the implementation of that law is fraught and embattled, and there is lots of work to be done on the access front. Take a look at these simple guides below. They will go a long way in helping to engage the disability community and making us feel welcome! Above all, remember our movement's rallying cry, "nothing about us, without us!"
New Analysis: More U.S. Adults Identify as Disabled; Ethnic and Socioeconomic Disparities Persist
A new analysis led by Johns Hopkins Medicine researchers finds that the number of U.S. adults who report they have a disability is 27%, representing 67 million adults, an increase of 1% since the data were last analyzed in 2016. In this new study, which used data collected in 2019, before the COVID-19 pandemic, the researchers found a wide array of disparities between socioeconomic and demographic factors that persists among those who identify as disabled and those who do not.
"To reduce ableism and create more inclusive communities, our country must be equipped with data on the prevalence of disabilities and who is most impacted by them," says Bonnielin Swenor, Ph.D., M.P.H., director of the Johns Hopkins Disability Health Research Center and associate professor of ophthalmology at the Johns Hopkins University School of Medicine and Wilmer Eye Institute.
Swenor and her research team analyzed survey data from the Centers for Disease Control and Prevention's 2019 Behavioral Risk Factor Surveillance System, a collection of health and behavior information from annual telephone surveys of more than 400,000 U.S. adults.
Results of the analysis were published Oct. 21 in JAMA Network Open.
Approximately 27% of American adults reported a disability. When compared with the U.S. adult population, this represents 67 million adults. An additional 6 million people reported a disability since data on disability prevalence were analyzed and reported in 2016.
In the current study, approximately 12% of American adults reported more than one disability. Mobility was the most often reported disability type, followed by cognitive/mental, independent living (requiring help for daily tasks and outings), hearing, vision, and self-care (needing help with bathing, dressing and other personal care tasks).
In addition, the researchers analyzed socioeconomic and demographic data to better understand the prevalence of disability across intersecting groups.
"Developing effective measures and policies to include people with disabilities in all aspects of life needs to account for the variability in how people among different ethnic, socioeconomic, demographic and geographic groups experience disability," says Swenor. "With robust data, we can strengthen the foundation of our knowledge about disability and develop tangible solutions."
The survey data showed that, compared with adults without a disability, disabled adults were more likely to be older, female, Hispanic, have less than a high school education, have low income, be unemployed, and be bisexual, transgender or gender nonconforming. Digging deeper, the team found differences in disability prevalence based on sociodemographic groups. For example, Black females had a higher prevalence of disability than females of other races, and Black adults identifying as gay or bisexual had a lower prevalence of disability compared with gay or bisexual adults of other races.
Swenor and the research team note that an aging population and other factors may contribute to the increase in reported disability. The data include information from before the COVID-19 pandemic, and Swenor says there may be an increase in people reporting a disability resulting from long-term symptoms of COVID-19.
The research team aims to use these data to continue studying the experiences of disabled populations, including identifying and finding support and resources for people with disabilities and ascertaining the capabilities of schools and employers in supporting disabled communities.
In addition to Swenor, researchers who contributed to the report include Jessica Campanile, Jennifer Deal, Ph.D., Nicholas Reed, Au.D., and Varshini Varadaraj, M.D., M.P.H.
Zoom Differentiation and Accommodations
Though virtual learning is seemingly becoming less commonplace across the country, it's still certainly around and likely will be for some time. And we all know that virtual learning has its challenges. Especially when it comes to differentiating in the virtual classroom. For students with special education accommodations, teachers will need to get creative in order to account for every student's unique needs and optimize learning opportunities. Thankfully, there are strategies and methods for providing special education accommodations in Zoom—we just need to think outside the box and modify what each accommodation looks like in the virtual realm. Let's take a look.
Zoom Chat
Since some are no longer physically in the classroom, proximity, prompting, and cueing accommodations pose a bit of a challenge for instructors. Yet, nothing has changed in terms of the student's needs. In fact, students who struggle to focus and/or stay on task may need the prompting and proximity accommodations even more now that they are sitting in front of a screen. Online learning does not allow for physical proximity; however, teachers can utilize the chat function to maximize student engagement and provide an alternative form of proximity, prompting, and cueing.
Reaching out: The Zoom chat can be used to individually reach out to specific students with prompting accommodations to spur participation and to rephrase a question when necessary.
Clarifying: The chat also allows teachers to check for understanding by providing a platform for asking clarifying questions, follow-up questions, etc.
Advocating: Teachers should remind students of their chatting capabilities so that students with accommodations can advocate for themselves and speak up when they need assistance.
Tracking: The chat also acts as a data tracker; teachers can modify their settings in Zoom so that chats are saved. This allows for teachers to review correspondence with students and share questions and check-ins with parents. Teachers can also use saved chats to track the number of times a student initiates a task, asks clarifying questions, responds to polls or exit responses, etc.
Reminding: Teachers can use the Zoom chat as a method for reminding students of their extended time or reduced workload accommodations as well. This allows teachers to discreetly remind a certain student that his due date is extended without drawing attention to the student's accommodations in front of the whole class. **Just be certain that, when chatting with specific students about these accommodations, you have selected the student's name from the dropdown so that the chat remains a private, 1:1 conversation.
Breakout Rooms
The grouping function in Zoom can also be beneficial when ensuring certain special education accommodations are offered. Teachers have the option to manually assign groups, which means that students with special education services can be grouped with a para-educator or with other students who have the same accommodations.
Variance: Teachers should try to avoid always grouping special education students together, however, as to avoid drawing attention to certain small groups or stigmatizing students who need additional support.
Oversight: Teachers can randomly assign groups using the "automatic" option when creating breakout rooms. Then, while students work, the "host" can pop in and out of groups to act as a "check-in" for students with that accommodation.
Mobility: Teachers can also move the para-educator from group to group during breakout room sessions so that every student receives supports throughout the collaborative activity.
Discretion: Breakout rooms also offer opportunities for differentiation. Teachers can modify assignments and link adapted materials in the chat to send to specific breakout rooms. From the chat link, students can click on the shared Google doc to access the modified material. This function can provide students with resources such as word banks, sentence starters, outlines, graphic organizers, glossaries, etc. The key is that each student who receives these accommodations will have access in a discreet manner and can choose to use the materials as needed.
In short, there are many steps educators can take to ensure virtual learning provides differentiation and accommodation on a platform like Zoom. Though virtual learning may not be around forever, it still remains for some, and with that, educators must ensure they enhance the learning experience as much as possible.