Though class pictures can create nostalgia about our younger years, for one young boy his elementary class group picture caused his parents to become mortified by the lack of insensitivity shown to their son, and their outrage caught the attention of social media.  Miles Ambridge is a 7-year-old boy who attends Herbert Spencer Elementary School in British Columbia, Canada.
Miles has spinal muscular atrophy, which is a disorder that affects the spinal nerve cells; Miles is unable to walk, and uses a wheelchair to move about.  In the class photograph, Miles is clearly separated from his classmates and can be seen leaning his body towards his classmates in order to be a part of the picture.  When Miles' parents saw the photograph, they wrote the British Columbia school asking for the photograph to be retaken.  Though Miles did not seem to have been negatively affected by the blatant act of insensitivity that occurred, his parents were not pleased with how their son was treated.
When I heard about this story, it broke my heart.  I remember my teachers, teacher assistants, and personal aides ensuring that I felt equal and as important as my able-bodied elementary school classmates.  I played on the jungle gym and other fun contraptions on the playground, went on class field trips, and participated in almost every school program/event offered.  I never felt "different," even though I knew that I was in a wheelchair and had to do physical therapy during school hours.
The fact that the teacher, the photographer, and other adults who may have been present, condoned (by "condoned," I am referring to the adults' inaction and/or lack of awareness about how Miles' placement would be perceived) what took place truly disturbed me.  It caused me to ponder how we view students, who will eventually become adults, with disabilities.
Do such actions of insensitivity and lack of awareness cause students with disabilities to realize that they are different?  When the "innocence of differences" veil is removed in this manner, how does that affect one's self-esteem about who and what they are?  Miles is fortunate to have such proactive parents, but what about children whose parents are hesitant to make waves and demand equal treatment?  What can be learned from this incident about how we treat students and adults with disabilities, and how such actions and attitudes can affect one's psyche and sense of self-worth?
The Today Show released Thursday morning the new class picture that shows Miles sitting with his classmates, with a big smile on his face.  The picture made me smile, knowing that a wrong has been corrected, but how many more "Miles'" must there be before we truly become a society of inclusion and empowerment for all people, despite ability?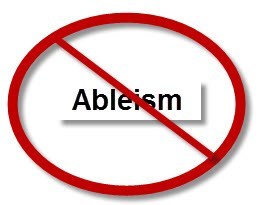 This story can be seen as an example of ableism, which is the discrimination and prejudice of individuals with disabilities.  Though this particular story took place in Canada, ableism is practiced here in America, and other parts of the world.
Despite the fact that we have the Americans with Disabilities Act (ADA) and other policies  that are suppose to create an equal playing field for people with disabilities to enhance their quality of life, these policies do not always prevent individuals from displaying offensive behaviors or voicing inappropriate opinions about people with disabilities.
More has to be done to ensure that our students are being treated fairly and have access to adequate resources in their schools, and that adults are able to pursue their dreams without fearing that their disability will hinder their efforts towards independence and self-sufficiency.
Being disabled should not mean being disqualified from having access to every aspect of life.
(Featured photo:  Courtesy of the Today Show.)